Green Mountain Repeater Association Minutes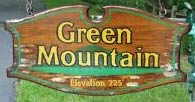 The Green Mountain Repeater Association
Serving Amateur Radio Since 1971
K3GMR 146.610 (-): Bladensburg W3GMR 146.880 (-): Greenbelt

Board of Directors Monthly Meeting Minutes

The GMRA Board of Directors normally meet monthly. The minutes from each meeting (starting with January 2011), are now available below:
Copyright © 2005-2014 The Green Mountain Repeater Association, Inc. All rights reserved.
Unauthorized duplication is prohibited, as is using contact information for unsolicited marketing.