Green Mountain Repeater Association - Photos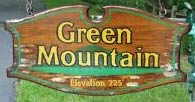 The Green Mountain Repeater Association
Serving Amateur Radio Since 1971
K3GMR 146.610 (-): Bladensburg W3GMR 146.880 (-): Greenbelt

Photos

These pages are devoted to photographs of GMRA members, and whenever possible their Amateur Radio equipment and stations. Additionally there are select photos of GMRA repeater equipment and antennas. You can click on any of the photos categories below to view them, and click on any photo to enlarge it:
GMRA Annual Business Meeting / Luncheon
December 3rd, 2005
Guest speaker, Radio and Television celebrity,
Ed Walker, N3HFT
, amused the members with radio bloopers from bygone days. Some were absolutely hilarious and had members doubled over with laughter. Thanks Ed, you were the highlight of the event.

Photo courtesy of CT David, K3GXF. Sign by Doug Lindsey, KB3HER.
Although slightly down in attendance from last year's Annual Meeting/Luncheon, the 2005 event had a large turnout as can be seen in the photograph.
Special recognition was given to Arrl V/President (Retired) Hugh Turnbull, W3ABC, (Center) by Quarter Century Wireless Association (QCWA) President, John Johnston, W3BE, (R) and QCWA member Mrs. Larocca Jones, KC4UXO, (L). The plaque presented to Hugh stated: "For exceptional contributions to Amateur Radio in general and for outstanding work in the selection of recipients for the QCWA scholarship awards."
(L-R) Murray Green, K3BEQ, and GMRA President Joe Nunemaker, KD3VR, giving out the 32 prizes to the deserving members after their ticket selection by Mrs. Lois "Chick" Hite, (spouse of John Hite, K3GSB.)
"That's my number" shouts Bill Kisse, WA3GJD, as he wins one of the prizes. Bill is one of GMRA's Founding Fathers from when the Association was established in 1971.
The lovely Mrs. Lois "Chick" Hite, spouse of GMRA member John Hite, K3SGB, shown here after being selected to do the honors of picking winning prize tickets for the lucky members.
GMRA Board of Director member, Ken Greenhouse, KB3IIE, very much enjoying handing out one of the thirteen Arrl 2005/2006 Repeater Directories.
And still another smiling prize winner. Robert Lee, KM3DR, was ironically the winner of the Arrl Emergency Communications Handbook. Robert is closely associated with the Washington DC Ares/Races organization.
GMRA member Gerry Conkling, K3CON, (R), was a winner of the "Arrl Low Band Dxing Handbook for 160/80/40 Meters", written by ON4UN. Ken, KB3IIE does the honors.
Winner of "The Grand Prize", Ron Montgomery, KC4QCE. No wonder he had such a big smile. You would be too if you were holding a brand new Kenwood TM-271A 60 watt mobile/base 2 meter transceiver.
A great layout of the 32 prizes given out to those attending. Over 30% of the members won a prize.
Copyright © 2005-2014 The Green Mountain Repeater Association, Inc. All rights reserved.
Unauthorized duplication is prohibited, as is using contact information for unsolicited marketing.