Green Mountain Repeater Association - Photos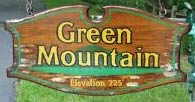 The Green Mountain Repeater Association
Serving Amateur Radio Since 1971
K3GMR 146.610 (-): Bladensburg W3GMR 146.880 (-): Greenbelt

Photos

These pages are devoted to photographs of GMRA members, and whenever possible their Amateur Radio equipment and stations. Additionally there are select photos of GMRA repeater equipment and antennas. You can click on any of the photos categories below to view them, and click on any photo to enlarge it:
GMRA Annual Business Meeting / Luncheon
December 2nd, 2006
Guest speaker Riley Hollingsworth, K4ZDH, FCC Special Counsel for Enforcement, returning to the podium at the 2006 Gmra Annual Meeting and Luncheon.
GMRA President, Paul Freirich, W3HFA, presenting a plaque of appreciation to Mr. Hollingsworth for his Amateur Radio Service Enforcement work. See plaque next photo.
Former GMRA President, Joseph Nunemaker, KD3VR, was presented a plaque (in absentia and accepted by his spouse, Alice Nunemkaer, WB3AOA) for his many years of service and support to GMRA. See plaque to the right.
(L-R) Hugh Turnbull, W3ABC, Arrl Vice President, Retired, in a light discussion with Jim Cross, WI3N, ARRL Maryland-DC Section Manager. Also congrats to Hugh on recently turning 90.
(L-R) Jim Cross, WI3N ARRL Maryland-DC Section Manager, together with ARRL Atlantic Division Vice/Director, Tom Abernethy, W3TOM. Tom takes no chances; see his badge.
A great layout of the 43 prizes given out to those attending.
(L-R) The five LUCKY winners of the GRAND PRIZES:
Robert Lepelletier, KI3O
Yaesu 5W HT;
Ken Hill, KB3LXP
Yaesu 5W HT;
John Waters, WB3JAL
Yaesu 5W HT;
Randy Crenwelge, WB5LPN
Yaesu 50W Mobile;
Mona Singleton, NY7P
Yaesu 50W Mobile.
Hope to see you at the next annual meeting!

Photos courtesy of CT David, K3GXF
Copyright © 2005-2014 The Green Mountain Repeater Association, Inc. All rights reserved.
Unauthorized duplication is prohibited, as is using contact information for unsolicited marketing.