Green Mountain Repeater Association - Photos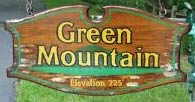 The Green Mountain Repeater Association
Serving Amateur Radio Since 1971
K3GMR 146.610 (-): Bladensburg W3GMR 146.880 (-): Greenbelt

Photos

These pages are devoted to photographs of GMRA members, and whenever possible their Amateur Radio equipment and stations. Additionally there are select photos of GMRA repeater equipment and antennas. You can click on any of the photos categories below to view them, and click on any photo to enlarge it:
GMRA Club Equipment
A bit of history in this photo. The very first Motorola repeater installed by GMRA in October 1971 at the home of K3BEQ in Cheverly, Maryland along with a duplexer on 146.610 MHz. This was back in the era of tube repeaters. At the time, GMRA had only one repeater but it was the only full time autopatch repeater in the Washington DC area. (Circa 1971-1972)
Eventually updating the tube type unit was the next generation of Motorola repeaters which compromised with a tube transmitter but solid state receiver. Shown here prior to relocation. One each was installed at the Cheverly and Greenbelt sites. (Circa 1972)
The Motorola Micor fully solid state repeater replaced and upgraded the previous models.

Photo courtesy of C.T. David, K3GXF.
The Andrews/Dbi 4 element vertical dipole antenna located at the prior 146.610 repeater site in Cheverly. That's
Jim Cross, WI3N
, who assisted in the installation during February 2004, together with
Joe Nunemaker, KD3VR
,
Roy Ashlin Jr., N3NGA
, and
Ron Montgomery, KC4QCE
. An identical antenna was installed at the 146.880 repeater site later that year.

Photo courtesy of Joe Nunemaker, KD3VR.
The emergency battery back-up power system for the 146.610 site installed by Joe Nunemaker, KD3VR. Some very professional work here. The 146.880 site has an emergency gas generator. Both systems are activated automatically upon loss of AC power.

Photo courtesy of Joe Nunemaker, KD3VR.
Copyright © 2005-2014 The Green Mountain Repeater Association, Inc. All rights reserved.
Unauthorized duplication is prohibited, as is using contact information for unsolicited marketing.