Green Mountain Repeater Association - Photos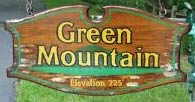 The Green Mountain Repeater Association
Serving Amateur Radio Since 1971
K3GMR 146.610 (-): Bladensburg W3GMR 146.880 (-): Greenbelt

Photos

These pages are devoted to photographs of GMRA members, and whenever possible their Amateur Radio equipment and stations. Additionally there are select photos of GMRA repeater equipment and antennas. You can click on any of the photos categories below to view them, and click on any photo to enlarge it:
Views From The Top of the GMRA Repeater Sites
Looking NORTH from the 146.610 repeater.
View to the EAST. (146.610 Repeater)
Looking due SOUTH. (146.610 Repeater)
"Go WEST young man. (146.610 Repeater)

"View from the .61 Top" photos are courtesy of Joe Nunemaker, KD3VR
---
Looking approximately NNE from the top of the 146.880 repeater site, at about 300 feet above sea level on a cloudy day.

"View from the .88 Top" photo courtesy of Mike Gregory, KB3IYQ
Copyright © 2005-2014 The Green Mountain Repeater Association, Inc. All rights reserved.
Unauthorized duplication is prohibited, as is using contact information for unsolicited marketing.